CLIENT: Gordon Murray
PROJECT: Murray Automotive Heritage Collection
LOCATION: Windlesham, Surrey, UK
DATE OF INSTALLATION: 2021
SIZE OF PROJECT: 17,000 sq.m
WEBSITE: Gordon Murray Design
Protecting the Murray Automotive Heritage Collection
Gordon Murray is one of the most innovative and successful designers the world of grand prix racing has ever seen, also responsible for several notable projects outside motorsport. He chose PROTECT by Dehum for his personal collection of over 30 cars, which is now part of Murray Automotive's Heritage division, housed in a newly renovated building in Surrey.
South African-born and having studied mechanical engineering in Durban, Gordon moved to England to combine his love of motorsport and music and joined the Brabham Formula 1 team, where he quickly became Chief Designer. Throughout the 70s and 80s his designs pushed the boundaries of motorsport, culminating in multiple wins and several world championships.
After joining McLaren in 1987, he was given the freedom to design 'the ultimate road car', and the legendary McLaren F1 was launched in 1992. He stayed with the company's road car division until 2004, then in 2007 set up his own design consultancy. That business has since grown into the Gordon Murray Group comprising Design, Automotive, Electronics and Heritage, and in 2020 launched the spiritual successor to the McLaren F1, the T.50 supercar.
A challenging project
In 2020, Murray Automotive relocated to BOC's iconic building in Windlesham, built in 1982 but in need of a complete renovation. The idea was to consolidate the company's vehicle manufacturing, research centre and customer sales in one location, and one of the first areas to be renovated was the 1700 sq.m former underground car park that would house Gordon's personal collection as part of the Heritage division.
The vehicles would need to be easily viewed and enjoyed by visitors, while being protected against deterioration; given the size of the space and the amount of airflow one of PROTECT's larger units proved the ideal choice, and we worked closely with the Murray Automotive team on the build and installation, with the unit and ducting discreet but visible in line with Gordon's love of engineering.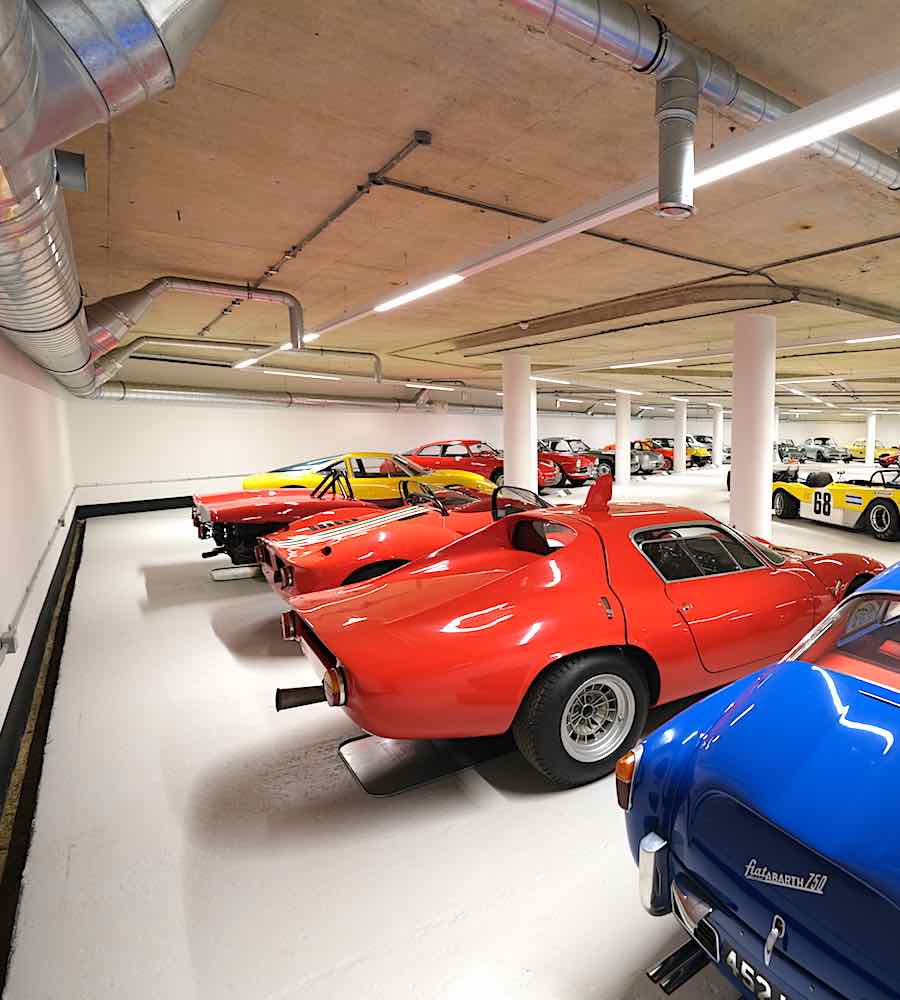 The ideal choice
As a designer, Gordon Murray's philosophy has always been based on a refusal to compromise and be the best there is; a philosophy reflected in his choice of PROTECT to maintain his personal car collection to the best possible standards.
Initially air-conditioning was considered, but as such systems are designed only to control temperature rather than humidity it was considered unsuitable. Gordon's engineering background led him to PROTECT, and he greatly enjoyed discovering how our system protects his collection by precisely controlling the environment day after day to keep his vehicles accessible but perfectly protected.
Every time a door is opened, moist air enters the garage but is quickly processed to prevent any negative effect on the collection – which means, thanks to PROTECT,  Gordon and other visitors can enjoy the Heritage division without compromise, with its protection ensured for years to come.
View project gallery
Protect by Dehum. Protecting cars that matter.